Our Guarantee
Free Site Visit and Survey
Full Insured
No hidden Costs
Professional Workmanship
15 Years Experience
British Standard Compliant
Durability And Sustainability
We have in-depth knowledge of resin flooring systems due to our long experience in the field, and we understand that floors of this nature should withstand a lot of traffic from people and heavy pieces of equipment.
Our resin floors are capable of withstanding non-stop traffic from pedestrians, heavy machinery, and harsh cleaning products or methods. There are some cleaning methods, ingredients, and equipment that are very aggressive on walls and floors, but we can also solve such problems.
Some places we have installed hygienic resin flooring systems
Education
A project Active Resin Flooring installed in one of the secondary schools in South East London is an excellent example of a hygienic flake finish floor. The preferred the epoxy flooring system because of its durability, smoothness, and the decorative appearance of the resin floor. Different shades of white, black and grey were used to create the blend of flakes, however, from our decorative flooring page, you can see that there is an unlimited range of patterns and blends which you can utilize to customize your style/branding. This hygienic system is perfect in cases where there is a high number of pedestrian traffic because of the ease to clean, sanitize, and maintain the floors.
Food and drink factories
Another situation where hygienic resin system is essential is in the food and drinks factories, for instance, a bacon preparation facility. The resin floor laid in such a facility should be hygienic to ensure easy cleanability and sanitation. An anti-slip and durable floor ensure the safety of the staff and can the floor will consequently withstand the wear of pallet traffic and forklift. The resin colouring is a Salsa Red to match the companies branding/product.
From the examples, you can see that there are various blends and styles we can use to customize a resin floor that suits your needs. We can create a smooth finish with circular patterns for a professional beautician look, a patterned flake finish using several colour blends (with an option for glitters) or even a food factory floor that requires durable resin products and practical design to fit your brand.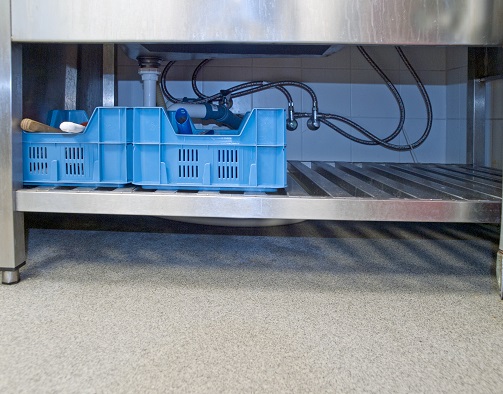 Hygienic Resin Flooring System Installation
We guarantee to our clients that our flooring system solutions are of the highest standards. Our installations are therefore perfect for Food & Beverage Processing facilities, for Pharmaceutical, Warehousing, Industrial, schools & other environments which need to comply with modern safety and health standards. Additionally, we'll always partner with you to develop a plan which will best meet your specific needs and schedule, before we install our customized flooring systems
Industrial Flooring Contractors
As professional industrial flooring contractors nearby, we provide consultation services to help you choose the best indoor surfacing for your property. The epoxy material we utilize in our flooring system occurs in a wide range of colours, making it suitable for any design requirements. You can find these specialist materials through suppliers like Degafloor, Sika, and Flowcrete.
Contact Our Hygienic Resin Flooring Installers In Your Area
A resin flooring system is the best option when you are looking for a hygienic flooring installation. Active Resin Flooring is a specialist in installing hygienic resin flooring for various industries throughout the UK. Hygienic floors are installed as seamless systems, which makes them easy to clean. This is because no bacteria, dust, or dirt can be trapped between seams or gaps like with tiled floors. Also, resin floors are easy to disinfect and possess chemical resistance properties.
Active Resin Flooring usually installs self-levelling epoxy flooring up to a depth of 2-3 mm thick. After pouring out the resin mixture onto the desired floor, specialist equipment is used to spread the mixture to make sure there is an even coating throughout the area. We always do a thorough cleaning of the existing floor before any resin mixture is poured to ensure a smooth resin surface when the application is complete.
For a perfect self-levelling epoxy floor installation, whether in your warehouse, property, factory, organization or any other place in the UK, please don't hesitate to contact us today
All our floor solutions are Ferfa approved for both quality and safety, and they can be applied for concrete refurbishment in existing commercial factories or workshops as a protective floor coating. Complete the contact form in our website with your details, and we will get back to you with advice on which durable resin surface will be most suitable for you, based on your needs and budget.
We are glad to discuss and give you more information about our designs, costs and installations process, so contact us today!