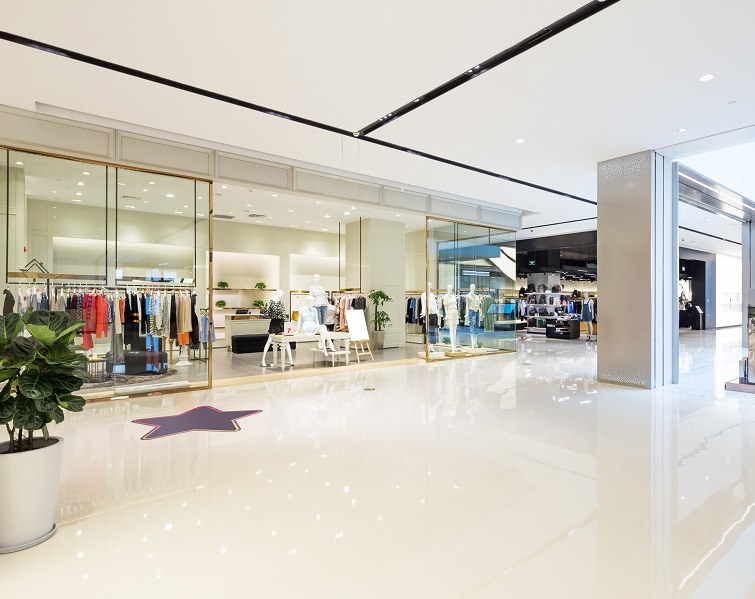 Resin flooring is often used to treat wooden, concrete, and even metal substrates through the application of polymeric based materials which then securely attaches to the substrate. The process involves polyurethane or epoxy resin technology.
Resin flooring is extremely versatile, meaning it can be applied and installed in any environment, including domestic homes, and industrial workspaces including factories, schools, hospitals, and restaurants. Whereas traditional flooring covers can be very high maintenance, resin flooring is extremely low maintenance. Resin flooring is a lot more hygienic compared to many traditional flooring covers and is also much safer.
This means that the installation of resin flooring will save you and your company money on potential repair expenses. As well as being naturally ventilated, and much softer to walk on, resin flooring is extremely easy to clean, and also comes in a wide range of designs and colours.
The different types of resin flooring
Acrylic Resin Floor – Acrylic base resin flooring is most notable for its anti-slip properties. It is usually requested by people looking to coat the flooring in corridors, on staircases, in kitchens, and high-trafficked areas such as washroom facilities.
Bio-resin Resin Floor – As the name suggests, bio-resins get their material properties from biological sources. These sources are usually plant-based and are derived from the byproducts of corn and soybean production. Bio-resin can also be gotten as a byproduct of biodiesel fuel refinement.
Our Guarantee
Free Site Visit and Survey
Full Insured
No hidden Costs
Professional Workmanship
15 Years Experience
British Standard Compliant
Coating Resin Floor – Resin coatings are usually associated with garages or commercial shopping area floors. However, it is becoming an increasingly popular option for people who want to use it in bathrooms, kitchens, and many other living spaces. Resin coatings have a huge range of colour options and designs that will ensure the unique requirements for your property flooring project are met.
Concrete Resin Floor – Although many people may perceive concrete as not eco-friendly, this is actually a much better option than previously thought. As well as concrete options being extremely taut and hard-wearing, it actually uses a lot of recycled aggregates in the manufacturing process. Our concrete options come in a range of colours and designs, including pebble-dashed, or with fragments of metal which will give your floor that sparkling finish.
Epoxy Resin Floor – Epoxy is a much sought-after option when it comes to coating your floors. A combination of chemical hardeners and resins are used together to create a solid plastic coating that bonds to your floor, whether your floor is wooden, metal, or concrete. Epoxy resin is extremely hard-wearing and can guarantee years of use without any notable damage.
Liquid vinyl Resin Floor – Liquid vinyl flooring is most notable for its seamless finish. This type of resin flooring utilizes polyurethane resin and is applied to pre-primed substrates or a rubber underlay. Liquid vinyl flooring is fine for its high elasticity, which makes it a great option if you want to offer underfoot comfort to people walking through your property. Thanks to this quality, liquid vinyl flooring will also help reduce the noise caused by footsteps.
Metal Resin Floor – Metallic resin floorings are very advantageous because they are very low maintenance, hard-wearing, and will almost certainly guarantee complete longevity. People often choose the metallic resin flooring option due to its smooth finish, and its metallic, marbled look.
Methyl Methacrylate (MMA) Resin Floor– This type of flooring is very unique in its chemical properties, which allows for it to be applied and ready to use within a time frame as short as two hours.
Polished Resin Floor– Polished concrete is usually chosen over traditional concrete flooring as it reduces the carbon footprint that is associated with the manufacturing and installation of traditional concrete flooring. Polished concrete flooring has been touted by many professionals as a result of its ability to reduce the accumulation of pests such as dust mites, and allergens including animal dander dust.
Polyurethane Resin Floor – Polyurethane resins are made up of a multitude of resin compounds, pigments, and hardeners. The application of polyurethane resins is extremely versatile, as they can be applied from hundred microns all the way up to 9 mm thickness, which gives a satisfyingly smooth and seamless finish that works great as a non-slip flooring solution in many commercial spaces. Polyurethane does not contain any solvents, and thanks to its enhanced durability,  it is ideal for warehouses, commercial spaces with a lot of public foot floor, and professional restaurants and kitchens.
Screed Resin Floor– Screeds FERFA Type 6 is a self-smoothing flooring solution that is extremely durable. Where required, it can also be made into a non-slip. This flooring option is very easy to maintain and is extremely hygienic.
Stone – Stone resin flooring is comprised of a countless number of tiny gravels that are bonded together using a clear resin. This option is not recommended for commercial spaces such as kitchens, and factories, however, they are a great option if used as a decorating feature in showrooms, shops, and even at home. Our company will allow you to choose from a range of gravel grain particle sizes as well as a huge selection of colours so you can design a floor that is entirely unique to you.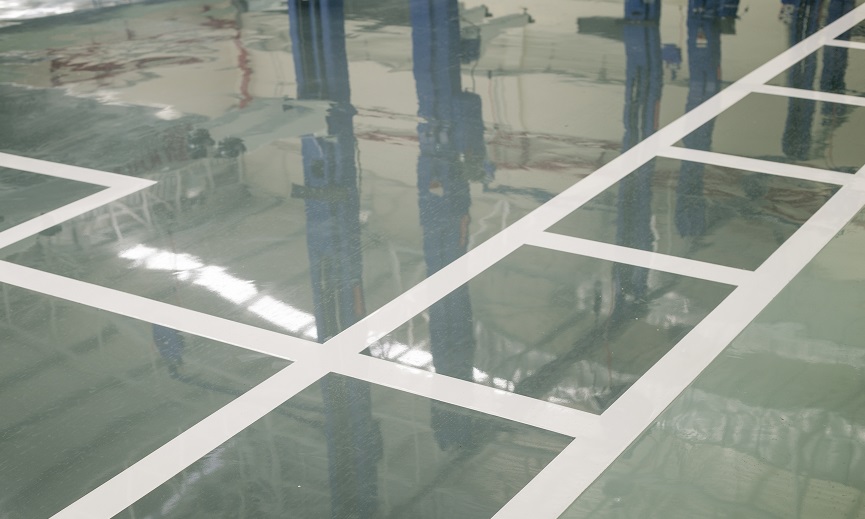 Tiles Resin Floor – Tiles are an extremely popular flooring choice. They can be used for both interior and exterior use, which will allow you to have a seamless flooring solution that can be carried from inside to outside. Tiles are also a very popular choice for bathrooms and wash facilities. Different Places That Resin Flooring Can Be Applied
Domestic Resin Floor –  Resin flooring can be installed in domestic areas. Resin flooring can be used to create an extremely smooth, decorative look for your property, as well as providing longevity. Domestic resin flooring is often recommended for people who are looking to renovate their garage, thanks to its durable nature.
Commercial Resin Floor – Here at our company we are able to provide you with a huge range of different commercial resin flooring options that are suitable for many different commercial areas and retail outlets. We offer a huge range of colours and designs to ensure that your choice of resin flooring matches the needs of your business.
Industrial Resin Floor – Our industrial flooring options are not just cost-effective, they are also extremely reliable. Many of our clientele come from an industrial background, so we have extensive experience working in industrial areas, supplying and fitting many warehouses and factories with all types of resin flooring including non-slip flooring and using resins that are solvent-free making them perfect for laboratories, as well as professional food preparation areas.
Hospitality Resin Floor – Resin flooring is an extremely popular option for many companies that operate within the hospitality industry. Here at Resin Flooring, we provide a huge range of design and colour options for many businesses that work within the hospitality sector. Our flooring solutions are extremely durable and can be guaranteed for at least 15 years.
Free Site Survey No Obligation
For expert opinion on your next project
Features of Resin Flooring
There are many different reasons why you should opt for resin flooring. Some of the benefits and features of using resin flooring options include:
A smooth, seamless finish
Non-slip surfaces
Water-resistant
Well insulated
hygienic
Self-leveling
Extremely easy to maintain
Durable
Cove skirting
Quick-drying
Benefits of Resin Flooring
Whereas traditional flooring options can be expensive, a resin flooring for your home or commercial space can be much cheaper, durable, and easier to install. Many professionals in the building trade will recommend resin flooring as a suitable solution for many projects.
One of the other reasons resin flooring is also becoming increasingly popular is due to its ability to not raise dust in the air, meaning the already present flooring does not need to be removed before the resin is installed on top. Resin flooring is usually extremely small in terms of depth, meaning it can be installed straight on top of your existing flooring, including ceramic flooring, concrete, wood, and even metal flooring.
Resin also provides water resistance, so you no longer have to worry about damp or mold after installing resing flooring. Resin flooring is well known to be extremely tough, long-lasting, and is a perfectly practical solution for many domestic and commercial areas, thanks to its ease of maintenance and enhanced levels of hygiene, as well as its attractive finish.
Resin flooring options such as epoxy resin are also extremely resistant to chemicals which is why it is the preferred option in many warehouses and plants that may be at risk of spillages from potent materials, such as acids, alkalines, and petroleum-based products. Thanks to its level of resistance, many substances can be easily cleaned up if spilled on the resin flooring, including oil, petrol, and other corrosive chemicals. As resin flooring is extremely durable, your floor will not be damaged by equipment, storage units or even chemical spillages.
Different Styles of Resin Flooring
At Resin Flooring, we offer a wide range of designs and finishes when it comes to choosing your resin flooring. We can ensure that any flooring that you choose will be entirely unique to you, and will be 100% suitable for your purposes. We are willing to consult with you on the best design style for your project. Some of the resin flooring styles that we have available at a company include:
Clear Resins
Concrete Resin
Coin design resin floors
3D Resin
Stone Resin
Marble Resin
Metallic Finish
Wood
Pebble Dashed
Polished Concrete Resin
Quartz
Textured
Glitter
Glass Chips
Terrazzo
Sand
Gloss
Colour Options for Resin Flooring
As well as a wide range of styles, at Resin Flooring, we are able to offer you an almost unlimited range of colours for your resin flooring. Our colouring technology allows you to choose from a wide range of colours for your resin flooring, ensuring that you choose the right one that is suitable for your project. Some of our more popular colours  include:
As well as many of our colour options, we are also able to create a bespoke colour scheme for your floors. Speak to one of our team members to see if we provide the colour that you desire for your project.
Why Choose Active Resin Flooring To Install Your Resin Floor?
At Active Resin Flooring, we are experts in the supply and installation of many different types of resin flooring, including epoxy, polyurethane, and poly-aspartic resin. We have worked with many different clients in many sectors, including commercial outlets, domestic homes, and industrial workspaces, so you can be sure that our team of fully trained experts have what it takes to deliver on the exact specifications that you require to ensure your property is installed with the correct resin flooring solution.
We have over X years of experience in providing first-grade resin flooring solutions, so you can be sure that the service we provide will be outstanding. Our team of experts will be able to consult with you on your project. You can book with us to arrange for one of our team members to visit your project location to discuss with you the best resin flooring options for your project.
With an extensive amount of experience, our team are able to supply and install resin floor solutions across many different industries within great timing, ensuring you that you will be able to use your floor within a matter of hours after the installation process is complete.
To learn more about the resin flooring options that our company provides, and how our experienced team can help you with your project, then you can contact us today on (insert company phone here) or email us at (insert email here)  to speak with our expert team.
The Cost of Resin Flooring
Compared to traditional flooring options, resin flooring is much cheaper. However, the costing of the resin flooring that you require comes down to two factors, the size of the flooring you wish to be covered, as well as the resin flooring option that you choose.
Here at Active Resin Flooring we calculate the cost per square metre, as well as taking into consideration whether the original flooring is in need of repair. We also calculate the thickness that you would like to have your resin flooring, as this will inevitably use more materials.
It's difficult to give a full exact figure as to the total cost per square metre for your project, as resin flooring installation will entirely depend on different factors that we will have to take into consideration before installation. The average cost of installing resin flooring per square metre is around £40, however, as already mentioned this can depend on the size of your project and the grade of resin flooring you choose. That notwithstanding, you can request a free, no-obligation quotation using our online quotation tool so that you can have an idea of the cost for your flooring project.
Contact Us Today
If you would like to find out more about how our team of experts can help you renovate your floors with our highly durable, versatile, and low-maintenance resin flooring solutions, then contact us today on (insert phone number here) or at (a company email here) to get in touch with our team of experts who are happy to answer any of your questions with regards to your project.
FAQ's
Can resin be applied to any surface?
Resin floor resolutions can be applied to many substrates including concrete floors, wooden floors, and even ceramic floors.
Does epoxy cause any environmental damage?
The sustainability of epoxy resins has been improved, especially over the last decade. As epoxy has great popularity, the industry has taken into account its demand and has put systems in place to ensure that all the natural resources used to create epoxy resins come from well sustained, and entirely renewable sources.
Should I use Epoxy resin for my home?
Epoxy is a great choice if you are interested in a domestic resin flooring solution. Thanks to its versatility and ease of maintenance, it is the perfect choice for many areas of your home, including corridors, kitchens, and even garage.
What is the longevity of the epoxy resin?
Epoxy resin usually lasts for years if it is maintained correctly. However, to maintain epoxy flooring is extremely easy. Epoxy flooring is low maintenance and you will not have trouble in keeping your floor in great condition. 
Depending on the use of the floor, epoxy resin usually lasts for around three years.
What is resin? How was it produced?
Special resin cells that are in plants are used to create the resin flooring solutions that we provide. These resin cells can be produced when plants incur injuries and are commonly found in the bark of trees, herbs, as well as shrubs.
It is safe to use epoxy?
Epoxy resins will not cause any problems, whether through inhalation or ingestion as their properties are considered to be non-toxic.
Is epoxy recyclable? 
Yes, epoxy can be recycled. Its carbon, glass, and Kevlar properties can be pulled out of the epoxy resin, and the recovered epoxy and fibre components can be reused for other purposes.