Among the most durable and cost-effective flooring alternatives is the industrial resin flooring. Almost every sort of resin, however, provides somewhat distinct quality features. Hence, it is essential to understand all components entirely to guarantee the right design and effective installation. This involves understanding the characteristics and techniques of implementation.
What Is Industrial Resin Floor Paint?
Industrial Floor Paints are usually heavy-duty floor paints as well as the best in the industry. They are two-component adhesive resin-based products meant to be ideal for use on factory floors. Consequently, they are appropriate for use in several other industrial and commercial installations. They are suitable for floors that are prone to compound leakages or regular traffic. In general, industrial floor paints for use on construction sites, have to be hard and durable enough to survive:
The corrosive damage caused by heavy machinery, pallet trucks, and vehicular activity around the plant.
Stationary storage enforced by pallet loading in warehouses or any other machinery on the factory floor
Any fluid or biological leakage that may happen on the ground, i.e., liquid, oils, acids, or alkaline solutions.
Our Guarantee
Free Site Visit and Survey
Full Insured
No hidden Costs
Professional Workmanship
15 Years Experience
British Standard Compliant
Types Of Industrial Resin Floor Finish
Epoxy and Polyurethane Coating
Epoxy resin and polyurethane coating are streamlined resin flooring alternatives appropriate for factories, vehicle spaces, personal rooms, factory rooms, or garage floors. The epoxy resin system is a resin floor finish that is not entirely too difficult to wear. The Resin Flooring epoxy paint offers a protected, smooth, absorbent layer and hard-wearing finish.
The use of anti-slip agents such as quartz, bauxite, aluminum oxide, or polymer pearls can accomplish differing levels of slip-resistant designs. Resin Flooring has the following characteristics:
Finish with matte resin.
Simple to tidy, smooth, clean.
Good stability in color.
It is possible to reach a slip-resistant finish.
The right solution for concrete and screen sealing.
Medium to hard wearing finish of the epoxy resin.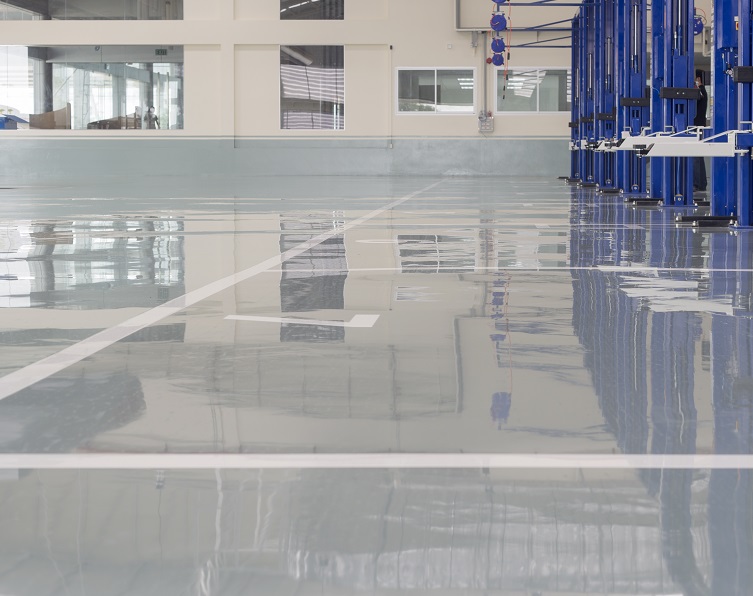 Epoxy & Polyurethane Screeds
The Epoxy & PU resin screeds are intended to give highly hard-wearing strong-gloss surface finishes in heavy-duty manufacturing buildings with pressure strength, abrasion and chemical products. They are an ideal long-term hardness solution as they provide simple surface cleaning and hardly any servicing. Mounted at 3-6 mm nominal, the self-smoothing PU screeds provide a smooth layered finish with excellent slip stability. The manufacturing characteristics that apply to this form of flooring are:
Tough wearing.
Smooth surface.
Finish matte.
Easy to maintain and extremely clean.
Resilience to toxic substances.
Hot water resilience.
The resin surface is appropriate as a floor covering that is subjected to light and heavy conditions for warehouse fields, personal garages, foundries, manufacturing regions, for instance.
Why not give us a call today
For free resin floor advice or a free quote
In terms of their technical load-bearing capability, such surfaces are highly appropriate for commercial buildings, abattoirs, business restaurants, workshops and places where high requirements are put on floors. In factories, high-traffic offices, vehicle parks, portable and stationary refrigerators, warehouses, indoor exhibition complexes, and food sectors, industrial self-levelling resin floor systems are used.
Coated terraces, loggias, public restrooms, or business kitchens are some of the business fields where this technique can be used.
What Are The Benefits Of Industrial Resin Flooring For Your Business?
Epoxy flooring options are perfect for giving any company a vibrant and amazing design that provides aesthetics. Whether it's in your workplace, factory, storage facility, or retail store; if you are searching for floor restoration options, this versatile option can be defined to fit the room.  Several businesses and industries can gain from epoxy resin floors. These include institutional structures, recreational complexes, storage and logistics regions, moist and dry handling regions, retail shops, restaurants, schools, and much more.
The built-in characteristics and the density will be very distinct based on the setting of the market.  For instance, factories may not be interested in a structure as ornamental as a cafe or retail setting, but they may need better synthetic performance based on what the factory majors in.
Carefully designed epoxy solutions are efficient and ideal for giving the workplace surroundings a nice first feel as both staff and guest rooms. Getting a proper first impression is essential, from the front door to the lounge area. Since reception areas are more likely to witness heavy foot traffic from both staff and guests, it may be essential to have a denser flooring scheme to guarantee that the floor can withstand overall damage and still look appealing.
Based on the space requirements, separate flooring schemes can be utilised. Because of unpredictable climatic patterns, frictional strength characteristics may equally need to be included, as well as a smooth finish to make washing easier. Materials used for absorbing noises are helpful for conference halls or corridors to prevent distractions. Achieving this is possible with rug, rubber, cork, or vinyl wooden floors. To make a good impression, this shift between floor fabrics can be ornamental, and it helps demonstrate the division of areas within the room.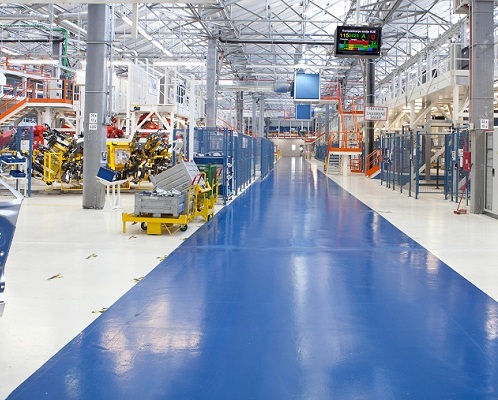 It is possible to use noise-absorbing carpets in hallways to minimize noisy disturbance. Cafeterias or cooking floor areas, on the other hand, do not typically need to reduce noise, but the floors may require other characteristics. As an illustration, synthetic strength can decrease the risk of floor failure even if it gets in close touch with spilled foodstuff containing a high amount of sugar and acids. Ordinarily, such spillages can prove detrimental to some rugs within a brief period.
The probability of fluid existing on the ground from cleaning or tidying up also implies that slip-resistant characteristics in the flooring would be useful for preventing hazards. With a layered floor design, this can be accomplished.
For a small kitchen in an office or cafeteria, slip and toxin strength are desirable characteristics. Also, colored epoxy resins are ideal for representing a corporation's identity on the floors. Furthermore, below are other benefits of selecting an epoxy floor covering for your business or residential property:
An efficient floor that is easy to scrub: our epoxy floor coverings are dry, strong, and smooth — trash, dust, and debris come off quickly.
Our epoxy floor covering systems are perfect for food, drink, pharmaceutical, and processing factories due to the easy-to-clean cleaning features.
Our epoxy floor covering transforms hardwood floor surfaces into the streamlined, functional, high-performance floors that'll remain viable for decades to come.
An appealing flooring layer: Our epoxy floor coverings are dry even though they contain moderately glowing gloss. They are obtainable in a multitude of styles and sizes. To develop an appealing and stable flooring option, you can decide to get one strong hue or produce a beautiful pattern utilising multiple colours.
Become a chemically stable surface: Epoxy floor coverings for industrial crops factories and agricultural factories are flooring alternatives that can withstand chemicals.
Enhance security: By producing a slip, thermal, and fire-resistant flooring option, our epoxy ground covering brands can enhance protection. Many such high-gloss ground coverings can also enhance lighting by 300% in work areas.
Differentiate specific traffic and work areas: We can use distinct shades of our epoxy floor covering to identify security areas, traffic areas, forklifts, and other job areas.
Improve efficiency capacities: using epoxy floor coverings in a warehouse, store, or commercial facility can decrease wear on transportation cars, enable quicker movement of materials, and prevent wear and harm to the floor.
Epoxy floor coverings are an eco-friendly flooring option for businesses that are pro-green.
Fast and straightforward implementation: our epoxy floor coverings are self-leveling, a feature that enables our skilled experts to rapidly add an epoxy floor covering to both new and old marble floors.
A cost-effective flooring option: an inexpensive flooring solution is the implementation of epoxy flooring through our qualified and skilled suppliers. The wear resistance of our floors ensures that it lasts for years; you may not even need to service or maintain it.
Preparing the Area
The most crucial aspect of any manufacturing flooring process is area planning. The concept behind area planning lies in the production of a "mechanical key." This process is aimed at ensuring that the resin binds to the ground. "Lifting" could be a possibility without this phase. The other function is to rid the floor of oil contaminants.
Total Solution for Flooring
We operate in all kinds of manufacturing settings at companyXXX, many of whom have particular demands. These include, but not restricted to, impact resistance, chemical resistance and slip resistance. Also, we make sure our industrial flooring systems suit your desire if you need customised installations. Contact our crew today to address your need for a specific flooring method, footpath classification, and differentiating between research and working areas.
How to Choose a Suitable Provider for your Industrial Flooring Installation
Active Resin Flooring has a wealth of experience with manufacturing and corporate flooring initiatives because we keep working with a lot of the highly regarded and well-recognised manufacturers in the business sector. As industrial floor installation specialists, we have a comprehensive client base from previous industrial flooring jobs and have updated our services to suit the needs of today's businesses. We have flooring alternatives that are perfect for just about any type of business atmosphere, combining the desire for a stylish look with outstanding longevity and usability.
We can provide a flooring system that serves your requirements through the experience of our highly qualified workforce and partnerships with major industry manufacturers. About comfort and security, our flooring methods encourage a better, cleaner, and safer business atmosphere. Finally, available flooring applications vary from the extremely-light epoxy floor and wall seal coverings to heavy-duty polyurethane flooring technologies for the most challenging industrial workspaces.
Dust-resistant coverings for sealing layers of concrete floors.
Complete replacement and floor preparations on existing joints and surfaces or a new resin scheme.
Slip-reduction coverings and schemes for self-smoothing.
Coatings for antibacterial floors.
Chemical resistant floor coverings
Fancy systems for floors and walls.
Floor repairs and joints maintenance.
Contact Us
Try our reliable, high-performing and heavy-duty flooring today. For manufacturing facilities, we specialise in creating effective and sturdy flooring solutions that can withstand heavy everyday traffic.
Contact us now to get a quotation for your industrial facility flooring requirements. Also, we'll advise you on choosing the correct factory flooring that's ideal for your company.
Information about London
Active Resin Flooring is proud to offer Industrial Flooring Services in London.
London is a Capital City located in Greater London in England.
London's main attractions include Three Mills, River Thames, Hatton Garden, and Canary Wharf.
As a result of its location, a number of rivers and water ways inlcuding Kensington Canal, London River Services, and River Thames are found within London.
London's local authority/administrative division is a Devolution In The United Kingdom.
London is part of Greater London.
London is attributed to Harrow, Abbey Wood, Burnt Oak, Kensal Green, and Isleworth administrative county districts.
Wards for local government elections in London also include Brentford, Barnes, Kew, and Teddington.
The Capital City of London is representated at a national level by Westminster (UK Parliament constituency), Kensington and Chelsea (UK Parliament constituency), Westminster Abbey (UK Parliament constituency), Paddington North (UK Parliament constituency), and Battersea (UK Parliament constituency).
The Capital City of London consolidates hamlets such asArkley, and Harefield within its border.
London contains a number of settlements including West Norwood, Raynes Park, Greenford, Adelphi, Bermondsey, Maida Vale, and East Barnet.
Active Resin Flooring's Industrial Flooring Services area like-wise encompasses Dartmouth Park, Brondesbury Park, Battersea, Muswell Hill, and Greenwich in the Capital City of London.
Other service areas of Active Resin Flooring in London, England are comprised ofGidea Park, Hampstead, Cottenham Park, Brent Park, and South Norwood,
as well as London's outlying urban areas Hook, St Giles, Barking, Lea Bridge, and Eltham.
Last in order of mention, Active Resin Flooring's Industrial Flooring Services cover the larger London area along with Edgware, Shepherd's Bush, Harlesden, Catford, and Chingford.
Putney, Paddington, Shoreditch, South Hampstead, and Bexley is within the constituency of London, Greater London.
Within London you find towns such as Woodside Park, Romford, Waterloo, Pitshanger, and Holloway.
Additional towns such as Chipping Barnet, Enfield Town, Chinatown, Barking, and Westminster can be found within the Capital City of London.
Lister Institute of Preventive Medicine, and Institute of Cancer Research within London are known through out the England and the United Kingdom.
London has a number of schools in the area including London Oratory School, and The Hampshire School.
Provide a physical education forum within London is the Saatchi Gallery, and Carlyle's House.
St Luke's Church, Newington Green, and Pollards Hill are popular with London locals and are known throughout England.
Lillie Road, Angel, and Bishopsgate are intrinsic to London transport infastructure.
London is best known for Statue of Charles II, Royal Hospital Chelsea.
Withing the boundaries of London, Royal Hospital Chelsea, St Helier, Stamford Bridge (stadium), Sloane House, and 15 Cheyne Walk of special interest.
A number of churches are located in London including St Mary's, Church of Our Most Holy Redeemer and St Thomas More, and Chelsea Academy.
Three Mills, Chelsea Harbour, Sands End, Timeline of London, and Enfield Island Village are but a few of the important parts of the history of London.
Canary Wharf are notable as London's main business centres.
A variety of business including Finborough Theatre, Rockstar London, and Granny Takes a Trip were founded in the Capital City of London.
Granny Takes a Trip is a major retail center point of commerce in London.
FAQ's
What is the duration of resin flooring installation?
The installation time of ranges from 2 to 5 days, and would depend on the resin scheme. Installing a standard resin floor colour requires up to 5 days. Installation of fast cure resin-based flooring systems can happen in less than 12 hours. This is mostly appropriate for businesses and manufacturing units.
How should I make plans before the application of the resin?
Before our authorised delivery crew arrives, we expect a substrate or new layer to be in place.  
Will I need a primer for the floor?
Because high-build floor coverings tend to be self-priming, and substrates may differ in porosity levels, to achieve the needed consistency, two coatings should be applied. Self-levellers bind well alone, but sealing the layer properly still requires a primer. Otherwise, air may seep through the surface and cause air bubbles to build up within the floor. A mortar scooping or screed will require a primer to bind perfectly well to the substrate, save for some water-based polyurethane screeds that can be introduced to cemented surfaces (concrete or screed) without a primer.
Which surface is better to apply the resin floor covering?
Resin-based floor coatings can be mounted on a broad spectrum of surfaces and floors such as concrete, cemented Isocrete Floor Screeds, tongue and groove hardwood, plywood and marine ply, and also different kinds of ceramic and pre-existing resin products.
Are they stable against Ultra-Violet light, or will they fade after a while?
Many Resin Flooring resin systems can withstand UV rays.
Is the Resin Floor System thick? How Thick?
Resin floor scheme can be between 2.5–6 mm for residential properties. The standard resin floor size is 3 mm thick. 
Do you offer warranties for any industrial resin flooring finish?
We give our resin floor designs a guarantee. The warranty period for each applied resin floor system is different. Please contact us for more information.