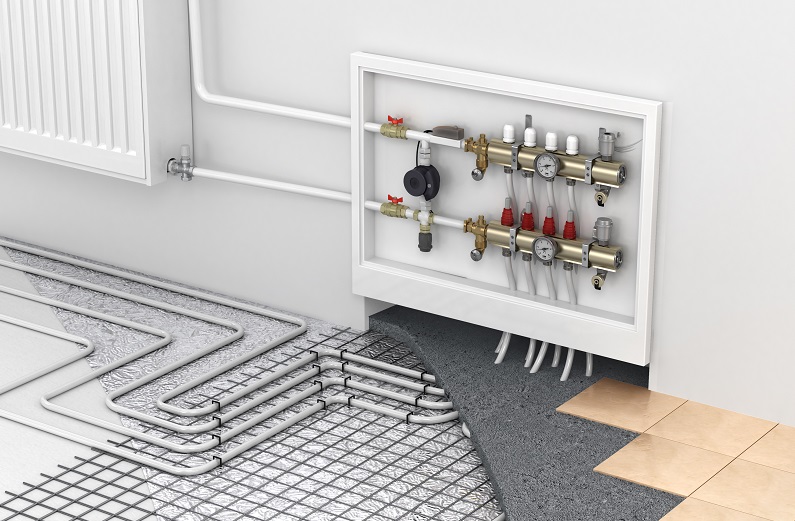 Particularly poured resin floors are sterile and require little effort to maintain and sanitize. For installing on the top of underfloor heating systems, we can pour resin floors that will fit excellently well. The floor can heat up to reach a maximum temperature of 30 degrees with little or no effect on the resin.   It is, however, noteworthy that proper care should be taken when dealing with standard central heating systems such as radiators where water in pipes can get up to 90 degrees. As fitting for the top of UFH systems, using a concrete slab or thick screed is advised.
Why would resin flooring be used for underfloor heating?
Easy maintenance and seamless smooth finishing are two significant advantages of using a resin floor over alternative options. A resin floor is tender and warm underfoot, compared to polished concrete.   Unlike concrete however, the inherent elastic nature of resin helps prevent it from cracking under any form of pressure. Coupled with our available options and a variety of designs, it is understandable why the demand for poured resin floors for both residential and commercial interiors is on the rise.
The ability to adapt to any room's temperature, that in turn provides a comfortable ground to walk on, is one of the major advantages of the resin floor. It gives a room additional comfort when you choose to combine a resin floor with the underfloor heating system.
Our Guarantee
Free Site Visit and Survey
Full Insured
No hidden Costs
Professional Workmanship
15 Years Experience
British Standard Compliant
Does one really have to use Underfloor Heating?
Underfloor heating (UFH) is gradually becoming a household thing. Unlike most heating solutions, UFH is a system that's gentle on walls, leaving it free from clutter. This is one feature that makes it a top choice for architects and designers. The gentle heat it emits is one in which homeowners can reel in.
Irrespective of the system you choose, whether 'dry', where electrical wires are set into thin mats or a 'wet', where centrally warm waters run through pipes, a science is always in play when choosing the right flooring to match.
Why not give us a call today
For free resin floor advice or a free quote
In selecting UFH, there are a good number of benefits
Mainly, it's the ability to produce 'radiant' heat – that is, in turn, shared evenly round the house to help keep the room at a consistent and comfortable temperature, without having to worry about unwanted spots or mould.
Water-based UFH is one of the most energy-efficient ways to keep the home warm and save energy bills. It operates at a low temperature of as little as 35ᴼC and still gives the required level of comfort. At this rate, the boiler can take a breather, an ideal way to save on energy, if you ask us.   The design freedom and the touch of affordable luxury Resin flooring system offers is another significant advantage.
Steps to choosing the best resin flooring for underfloor heating
A material's thermal conductivity, i.e., the ability for generated heat to transfer quickly and efficiently to the floor surface should be the main consideration when choosing underfloor heating for your home.   Flooring with good conductivity as it heats up tends to be more efficient in giving a better heat output. This is one feature that stands Resin out as the best flooring for UFH, as a resin floor has the needed properties to conduct the heat provided by UFH.
Comfort is the primary factor to consider when picking a floor for a domestic environment. You need to ask if the floor would be pleasant and convenient to live with throughout the years.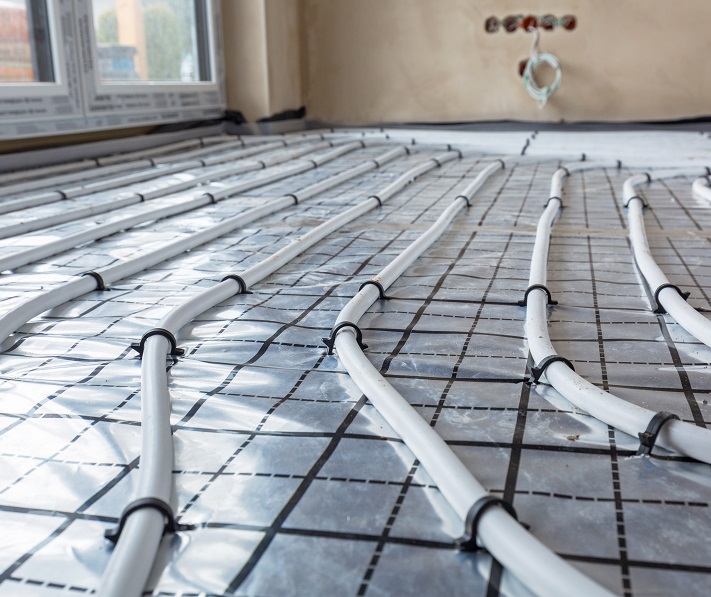 Luckily, a poured resin floor is comfortable with or without underfloor heating and gives both warmth and comfort underfoot. Our resin floor, with its inherent elastic nature, fits excellently well in domestic environments because not only are they easy to maintain, they can also deal with the traffic of daily home activities.
Resin floors vs. Concrete floors
It is no surprise that resin flooring is a household choice for contemporary homes. Ideally, it works well for kitchen and bathroom floors and adds that touch to modern living spaces as well.   Resin floors are not just pleasant to the eyes, they don't wear easily, are durable, highly dirt, stains, and spill resistant, and gets better as they age.
Because it can survive wet areas, it is suitable for underfloor heating. It can also be seamlessly used to run floors to walls. If you go for the choice of a glossy or polished finish, there is this feeling of space that a resin flooring sheen provides which works for open-plan living spaces.
Whenever the thought of floor options pop up, remember that at Resin Flooring, we offer a variety of flooring options and installations that can readily match your taste and standards; regardless of whether the UFH systems are new or already existing ones. Contact our resin experts on 01245 678920 for more information or how to get started.
Free Site Survey No Obligation
For expert opinion on your next project
FAQ's
Which underfloor heating works best?
Dry systems, also known as electric and water-based or wet systems, are the two kinds of underfloor heating. The less disruptive system when it comes to installation is the electric system, but running them cost more. That said, smaller spaces such as tiled bathrooms or spots that are less accessible are the more appropriate options for them. 
Does underfloor heating cost more than radiators?
Underfloor heating systems distribute heat at a much better rate when compared to radiators and use less water at a lower heat than radiators.
It ensures boiler efficiency. Water-based systems depend solely on installation and thus cost more for this reason.
Is it possible to have underfloor heating alongside a polished concrete floor?
If you're considering having a UFH and a polished concrete floor together, know that it is possible. However, to be as effective as possible, there are a lot that has to be considered before installation.
How durable is a resin floor?
When properly taken care of and maintained, resin floors can last for a very long time. 
Apart from being ridiculously low maintenance, they do not wear easily, unlike other types of flooring. However, it is important to note that at the end, the lifespan of your floor will depend a lot on the floor traffic.