Active Resin Flooring Epoxy Flooring does not have any of the defects common to inferior flooring. Other superior flooring might afford one the essential waterproof protection but Active Resin Flooring Ebony Flooring remains that way even after many years. Because it bonds to all the drains, conduits, plumbing pipes, and electrical conduits, moisture cannot penetrate the floor to cause damage to the underneath facilities. This proves that Active Resin Flooring Epoxy Flooring is more than the waterproof feature.
What are the benefits of installing Waterproof Resin Flooring?
Waterproof Flooring is like your nonstick frying pan; with one simple swipe, it becomes almost new. Life is often very messy and that mess is usually a wet one. With this flooring, it is very easy to clean without damaging the epoxy.
Materials that resist moisture by repelling water and stains, thereby making cleaning easy, are the key to waterproof flooring. Our epoxy waterproof flooring offers protection from potential damage caused by continual exposure to moisture, such as mould, thereby protecting the floors and the foundation.
Waterproof Flooring is only the best option when it comes to rooms constantly exposed to moisture, such as bathrooms because it protects against moisture from steamy showers and stops leaks. With this type of floor, you are protected from expensive water damage and condensation buildup. Polyurethane resins are the products used for waterproofing because they are oil and gasoline resistant. They are the reason the Waterproof Flooring is able to improve structural integrity and remain unchanged in its color. They also make sure that both the chemical and mechanical resistance of the finish resin flooring is maintained.
Our Guarantee
Free Site Visit and Survey
Full Insured
No hidden Costs
Professional Workmanship
15 Years Experience
British Standard Compliant
Facilities that can benefit from Waterproof Resin Flooring
Some facilities that benefit from Waterproof Flooring Solution include;
Chemical and manufacturing plants
Pool decks and hotel spas
Sports arenas and Fast food restaurants present in shopping malls
Communal showers, locker rooms and restrooms
Industrial mezzanines
Food and beverage packaging or production.
Institutional and commercial kitchens.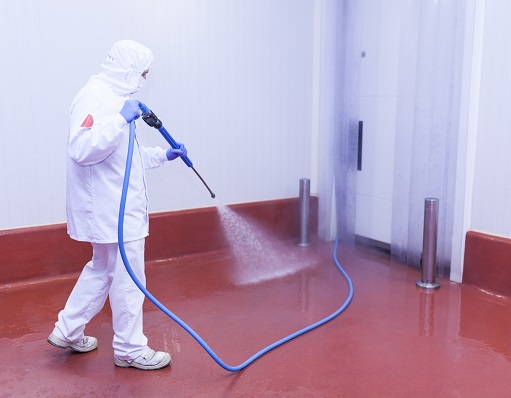 Request for a Free Site Survey
Active Resin Flooring is a resin flooring contractor based in the UK. We specialize in resin flooring installation for domestic, commercial and warehouse solutions, waterproofing and other various flooring options.
On our case studies page are the selected jobs amongst the hundreds we've completed. Your business has to be built on a solid foundation, literally and your flooring solutions are the most important as they give you long term performance and reliability.
Active Resin Flooring are experts in resin flooring and they operate throughout South East London providing excellent service in the region.
For your specific requirements and any questions you might have concerning our products and services, contact Active Resin Flooring on 01245 678920, and we'll be delighted to discuss and help.
We hold our passion for customer service as highly paramount. We can also assist you with design and offer a free site survey and detailed specifications and quotation without obligation. Of course, you always have the choice and we are always pleased to hear from you.
Why not give us a call today
For free resin floor advice or a free quote
FAQ's
What is the most advisable Resin Floor?
There is no one best type of resin floor. There are multiple flooring solutions which can be selected from based on your specific requirements. We can help you make an informed decision by talking through your flooring project with you.
Are epoxy floors really waterproof?
A large number of epoxy floors claim the waterproof feature, but they are only temporarily waterproof without being a resin-rich poured floor.
Does epoxy also make wood waterproof?
Usually, epoxy is an ideal coating for wood projects that have the tendency to suffer exposure to wear or moisture because it has the ability to give wood a resilient and waterproof finish.
Is there any difference between waterproofing and water-resistant flooring?
Time is what distinguishes Waterproof flooring from water-resistant flooring. While Waterproof Flooring is permanent, water-resistant flooring will be soaked up eventually. This means that the water will never be able to penetrate the Waterproof Flooring, no matter how much time has passed.
Are epoxy floors really safe?
Epoxy Floors provide long lasting and durable protection for your floor and they are also sleek and smooth. You might wonder if the associated chemicals and fumes are harmful to your family. Truly, the presence of these fumes and chemicals present in epoxy floor coating results into nothing dangerous because they are not any stronger than a can of paint sold at the hardware store.