While custom-made resin floor coating colours are typically subject to minimum order quantities, practically any shade, whether as a standalone or colour mixture, is obtainable as a resin floor coating colour.  Thanks to the commercial sector's design flexibility, creating a black-coloured self-levelling flooring system is possible. It is, however, normally subject to a specific order quantity. A black self-levelling or smoothing floor surface is durable, doesn't wear quickly, is impact resistant, and easy to maintain and clean. Typically, the thickness level for laying a standard black resin floor is 2-4mm.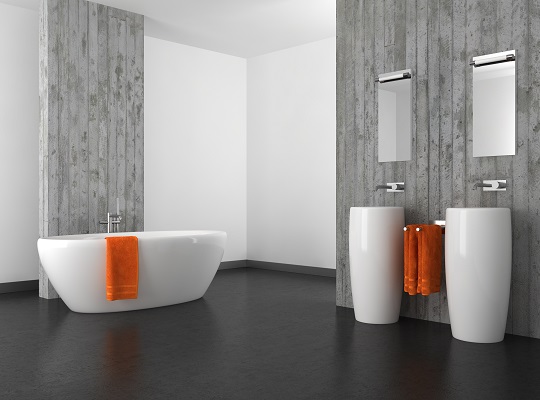 Whatever feature you desire in a black resin floor, be it a smooth glossy or matte surface that's durable, brightly coloured and seamless; a black resin flooring system possesses these features and more.
The surface doesn't aid microbial growth, and it's easy to clean. It is equally suitable for use in commercial establishments such as cafes, bars, shopping malls, showrooms, coffee shops, office blocks, atria, receptions/lobbies, halls, and retail outlets. 
Black resin flooring systems are a preferred option for corporate establishments. Black flooring can aid brand reinforcement, be it a for playful interior or a more cosmopolitan-styled one.
Why Should Black Resin Flooring Be Your Choice?
Because of it's serenading, modern-styled look black resin floors can be quite the show stopper. Not just that, black resin equally improves your home's overall decor as it exudes a high-value appearance.
Our Guarantee
Free Site Visit and Survey
Full Insured
No hidden Costs
Professional Workmanship
15 Years Experience
British Standard Compliant
What Benefits Do You Get for Installing a Black Resin Floor?
Black is beautiful. It represents a bold colour statement that symbolizes mystery and composure. All you need is an appropriate matching décor to work with the black floor. Below, we outline some benefits of choosing a black-coloured resin floor:
Why not give us a call today
For free resin floor advice or a free quote
Black Looks Clean, Always
Compared to lighter floor shades, you won't have to worry about the presence of debris, dirt, and dust on your floor. With minimal effort, a black resin floor will always give off this clean, polished look in your home.
A Modern Appeal
A black décor gives off this aura of modernisation. Pairing a black-coloured floor with a lighter shaded wall can introduce an unprecedented feeling of liveliness in a room. With black coloured resin flooring, you won't need to spend heavily on furniture installation or renovation.
 Black Symbolises Sophistication
You only need to walk on a well maintained black floor once to feel the aura of sophistication it oozes. The reason isn't far-fetched: black might look simple to the eyes, yet, it is big on making bold statements.
Ever wondered why there's the famous saying among socialites that "you can never go wrong in black?" Think of the favourite colour for elements ranging from limousines to tuxedos and evening wears. It's all black.
Epoxy self-smoothing resins
Compared to epoxy coatings, epoxy self-smoothing resins result in a higher-build finish when installed at a standard 2-mm thickness level. They are self-sealing with a bright gloss or matte finish, depending on your preference. Ideally, they are more suitable for dry process work areas with medium to heavy-duty truck, foot, forklift, and pallet traffic. Some benefits of epoxy self-smoothing resins are highlighted below:
The Skydrol resistant variant is the aviation Industry's most preferred
Possesses hard-wearing and good abrasion resistance features
Epoxy self-smoothing resins are a FeRFA type 5
Anti-static options are available
Easy to clean and maintain
Hygienic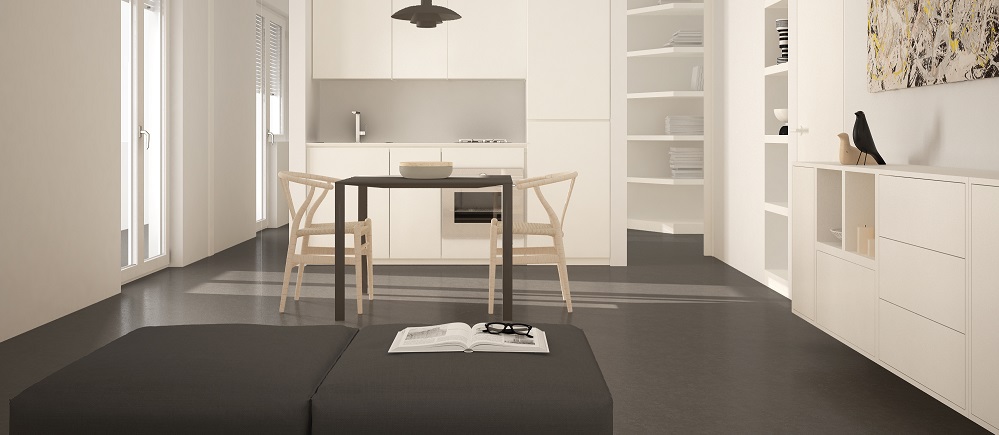 Polyurethane self-smoothing resins
Polyurethane self-smoothing resins are more suited for retail and commercial establishments. They feature more flexibility compared to epoxy self-smoothing resins. Factually speaking, the popularity of the polyurethane-based self-smoothing resin has been on a steady rise since its introduction into mainstream flooring systems.
To give a seamless and uniform look, they are typically finished with a pigmented matte sealer, in one or two coats. Unlike standard epoxy flooring systems, polyurethane sealers possess excellent UV resistance, a feature that's not obtainable with conventional epoxy systems as they're prone to colour change over time.
Also, Polyurethane self-smoothing resins are more comfortable and feel softer underfoot. Their installation goes well with a broad range of substrates including screed, concrete, moisture-resistant chipboards, and marine plywood. To ensure even greater comfort and upgraded acoustics, give our comfort flooring range a try. It integrates a 4mm thick rubber matting underlay.
Product overview:
Results in a contemporary finish
Commercial and heavy-duty grades are available and most suited for the healthcare and education sector with a tradition of utilizing vinyl flooring.
With the application of varying colour sealers, the floor colour is changeable from one shade to another
Two or more colour options can be installed on the same floor to give a custom-made finish.
Comfortable and flexible underfoot
Matte finishes tend to show minimal marking micro-abrasions on floors
It's a FeRFA type 5.
They are Durable
Resin floors are scratch and stain-resistant. Thus, they tend to retain their brand-new look years after installation. Given their waterproof nature, they are suitable for liquid spill-prone areas like laundry rooms, kitchens, and bathrooms. Moreover, as long as they are dried routinely, they won't rot, loosen, or warp.
They are Easily Maintained
You won't need any exclusive cleaning product for your resin floors as long as you sweep and mop regularly.
They are Versatile
Resin floors are a popular option among manufacturers because you get to have the best of both worlds: quality-looking and affordable floors.
Resin Flooring Natural Resin Flooring
Our resin floors are unique. They are sourced from natural biopolymers to deliver the highest standards in resin flooring.  Resin Flooring floors are seamlessly smooth, warm underfoot, feels soft to touch and healthy by regulatory standards. Resin Flooring is a resin flooring supplier that offers smooth, seamless resin floors sourced from natural plant oil resins.
Guaranteed Resin Floor Products
All our poured resin floors are thoroughly tested and primed for effective and long-lasting results. Expect efficient and effective results when you choose any Resin Flooring flooring solution.
Quality Resin Floor Installations
We deliver hand-cast, custom-made resin flooring, to some of the most alluring interiors throughout the world. From our offices in South East London we are your go-to specialists for resin flooring projects/
Information about London
Active Resin Flooring offers Black Flooring Services in London.
London is a Capital City located in Greater London in England.
London's main tourist attractions include Three Mills, Canary Wharf, Hatton Garden, and River Thames.
Found within London are a number of prominent rivers and waterways including River Thames, Kensington Canal, and London River Services.
London's local authority responsible for the provision of all local government services is a Devolution In The United Kingdom.
London is based within Greater London.
London is associated with county districts including Harrow, Abbey Wood, Burnt Oak, Isleworth, and Kensal Green.
Wards in London are usually named after thoroughfares, neighbourhoods and parishes, these include Teddington, Barnes, Brentford, and Kew.
National parliamentary constituencies of the Capital City of London include Paddington North (UK Parliament constituency), Battersea (UK Parliament constituency), Westminster Abbey (UK Parliament constituency), Westminster (UK Parliament constituency), and Kensington and Chelsea (UK Parliament constituency).
The Capital City of London also amalgamated villages such as Harefield, and Arkley within its boundaries.
London contains a number of settlements including West Norwood, Raynes Park, Greenford, Adelphi, Bermondsey, Maida Vale, and East Barnet.
Active Resin Flooring's Black Flooring Services area in the Capital City of London also includes Brondesbury Park, Muswell Hill, Battersea, Greenwich, and Dartmouth Park.
Other service areas of Active Resin Flooring in London, England are comprised ofGidea Park, Hampstead, Cottenham Park, Brent Park, and South Norwood,
as well as London's outlying urban areas St Giles, Eltham, Hook, Lea Bridge, and Barking.
Last in order but nevertheless important, Active Resin Flooring's Black Flooring Services cover the wider London area including Chingford, Shepherd's Bush, Catford, Edgware, and Harlesden.
Smaller areas within of London, Greater London include Bexley, Paddington, Shoreditch, Putney, and South Hampstead.
Within London you find towns such as Woodside Park, Romford, Waterloo, Pitshanger, and Holloway.
Other towns found within the Capital City of London include Chipping Barnet, Barking, Westminster, Enfield Town, and Chinatown
Lister Institute of Preventive Medicine, and Institute of Cancer Research found within London are respected through out England and the United Kingdom.
Notable educational establishments in London include London Oratory School, and The Hampshire School.
Furthering the education of London locals is the Carlyle's House, and Saatchi Gallery.
Newington Green, Pollards Hill, and St Luke's Church are popular with London residents and known through out England.
Within London roads and infastructure include Bishopsgate, Lillie Road, and Angel.
London is best known for Statue of Charles II, Royal Hospital Chelsea.
Situated in London, notable heritage assets include 15 Cheyne Walk, Royal Hospital Chelsea, Stamford Bridge (stadium), St Helier, and Sloane House.
Churches in London include Church of Our Most Holy Redeemer and St Thomas More, St Mary's, and Chelsea Academy.
The history of London has Timeline of London, Enfield Island Village, Chelsea Harbour, Sands End, and Three Mills.
London's central business districts include Canary Wharf.
The Capital City of London is home to a number of businesses including Rockstar London, Granny Takes a Trip, and Finborough Theatre.
Granny Takes a Trip is a major retail center point of commerce in London.