What are the Benefits of a Resin flooring Entryway?
Entryways with Resin flooring are known to have several advantages. These include:
Toughness
The Resin flooring in entryways is manufactured by the bonding of two chemicals. The result is a bond that is sturdier than concrete and has a high-level of resistance. The chemical coating has a layer that comprises hard resin. This resin layer is continuous and without seams or weak points.
Flexibility
An entryway with Resin flooring is highly flexible. The resin-covered entryway can withstand thermal shock and is easy to clean.
Resistant to abrasion
Resin flooring, when applied in entryways, is well known for resistance to abrasion. This means that when something forceful or substantial grates the floor, the entryway with resin flooring will not be destroyed, unlike the average concrete floor which will be scratched or damaged.
Resistance to Chemicals
A great many flooring solutions are not resistant to spillages from chemicals and substances like alkalis, acids, and some other solvents can damage a floor permanently. Spills are expected, especially when there are children at home. However, a resin flooring entryway is resistant to all kinds of chemicals and hazardous/non-hazardous substances.
Aesthetic appeal
Resin flooring for entryways come in different colours and shades. It is crucial for floor coating in the entryway to have aesthetic appeal as no one will care about the floor quality if the floor does not look beautiful.
Safety
It is reliable and safe to use resin flooring, especially in the entryway areas. This is because, unlike most crystal and marble floorings, the resin flooring has an anti-slip layer that prevents accidental slips and injuries. This anti-slip layer can be found under the main layer and allows for friction and support while walking, moving and dragging into the passageway.
Hygiene
An entryway that is coated in resin has superior health potentials than any other flooring available in the market. This is because there is a laminated layer atop the coating which is resistant to stain. If the floor is stained, you can easily wipe it off without dealing with the stress of an absorbed mess.
The Installation of a Resin Finish in an Entryway.
Preparation
A form of preparation is needed to begin any new Resin flooring. This can either be cleaning or a little rotary sanding, down to substantial preparation which may involve the removal and reduction of floors up to 60-70mm. It allows the surface to be smooth and refined and allows the entryways with resin flooring system to perform better and look beautiful. Preparation can take as long as a few hours or may take up to two days.
Priming
The floors are primed after immediately after preparation. This can be either the first coat of water-based coating or epoxy resin of high build(the base level floor). Priming may also be in the form of a moisture-proof membrane where the floor in an entryway area is prone to moisture, or primers that are oil tolerant when a floor is easily contaminated by oil.
Floor Coating
After you have selected the base level resin flooring for your entryway, the next coat that is applied is called the topcoat. These are often used for garage floors and warehouses.
Seal Coat
Quite a number of entryway floors need a seal coat to complete the resin flooring. Seal coats can either be clear epoxy resin or water-based polyurethane.
Joints
The final stage is determining whether joints are needed in the completed resin entryway flooring. Joints are used to help the floor contract and expand, and when dry to shrink back. There may be need to modify existing joints (in the concrete floor) on the new surface as the floor will move. Concrete warms up and cools down throughout the seasons so if the movement is not allowed; the floor will have cracks. Joints are made by saw cutting (vacuum-assisted machine) and then reinstalled with a joint compound which allows movement.
Why choose us for your Resin Finish entryway?
Our resin flooring is available in various textures, sizes, and colour for customers. We have the tools and techniques which allow us to make the perfect resin flooring for the entryway in your home.
We commit to providing you with exceptional finishes, superior products, and excellent customer service. We are renowned for leading in resin solutions, and for remarkable installations of grand entryways. For fifteen years, our team has built a durable, innovative, unique, and premium line of resin products. With this, we are confident in all of our products and services, so that we offer clients who have our resin floors a twenty-year guarantee and care service.
What is the cost of a Resin bound entryway?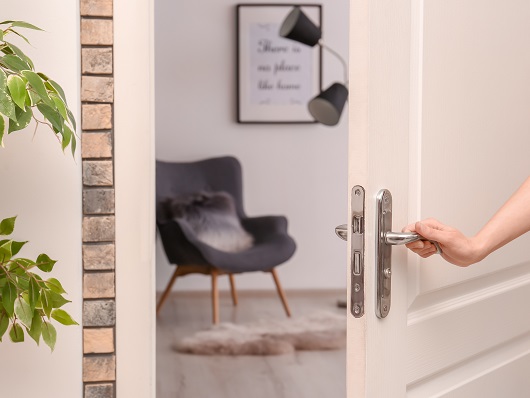 Selecting an entryway with a resin finish is a case of blending aesthetic, practical, and financial considerations. Most of the decision will be made by paying visits to showrooms, websites, and brochures – however, it's important to note how your entryway floor covering will interact with the actual floor structure. We generally pair particular types of flooring in any entryway, but thanks to modern manufacturing techniques, a spectacular range of versatility are offered, along with some products imitating the characteristics and appearance of others. In summary, it is best to seek the advice of an expert on the expense and factors to be considered when constructing your entryway.
Contact Us
To send an enquiry, please fill the contact form. If you would like to get a quotation for your entryway resin floor project, please provide enough details, or contact us via phone on 01245 678920 and we will be glad to guide and help you.
Why not give us a call today
For free resin floor advice or a free quote
FAQ's
Are Resin floors stain-resistant?
Domestic resin flooring is highly stain-resistant, be it of animal or vegetable nature. When your surface is hydro-repellent and non-absorbent, it will form a resistant barrier against stains. However, it is necessary to clean the stain off as quickly as possible in a bid to limit the contact.
Can resin flooring be customized?
Definitely! Before installation, we will sit with you to discuss the dream entryway flooring that you are envisioning. From there, we will find the right texture and colour is best suited to your needs and preferences. We offer solid floor coverings that are inexpensive, for example, solid epoxy as well as metallic and customized commercial finishes.
Will the entryway resin flooring be slippery?
This depends on your flooring choices, your floors may have a smooth, glassy surface or a textured surface and look. Ordinarily, the new resin flooring system in your home will be no more slippery than concrete when wet. If you have concerns on how slippery your new floor will be, you can add slip-resistant additives to the top.
Which wax is best for the maintenance of a resin flooring entryway?
Because they have the brilliance of an original finish, Neutral pH detergents with metallic waxes in them are recommended. Your entryway needs a lot of care, especially when the flooring is satin, matte, or glossy.