Resin Flooring for Domestic Kennels
There are various solutions for resin floor finishes in puppy & dog kennels, animal pens, and catteries.  The least expensive option is to give the concrete slab a brushed coating at first lay and leave it like that. The drawback is that concrete is somewhat permeable and as the slab gets older it gets drier and more porous;
This way, animal urine, and water get absorbed by the top surface of the concrete.  It then becomes hard to clean, leading to bad odour. The best solution for catteries, dog kennels, and animal pens is the Basic Resin Floor Paint. Once it is applied and cured, it is easy to clean and hose down.  Like all resin floor coatings, it provides a clean finish that deters fungal or bacterial growth.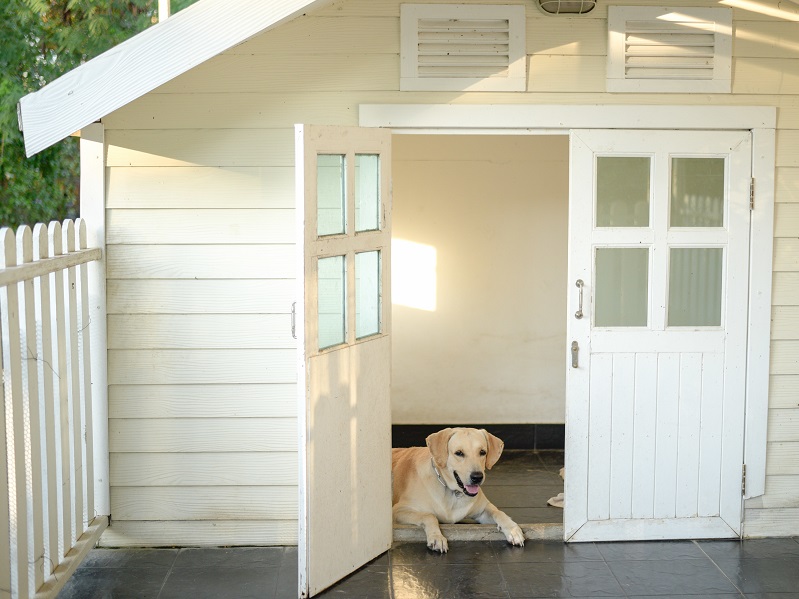 What are the benefits of resin flooring in kennels?
Durability 
Compared to ordinary paint, an epoxy-covered floor is scratch-safe and less likely to chip or split under substantial use, so domestic animals of all sizes can play on the floors, for a long time, without damaging them. 
The life expectancy of an epoxy floor coating depends on various ecological factors, yet it can keep going for five to ten years before requiring re-application.
Our Guarantee
Free Site Visit and Survey
Full Insured
No hidden Costs
Professional Workmanship
15 Years Experience
British Standard Compliant
Applies over existing concrete
Odds are your building includes a concrete slab. One of the benefits of an epoxy finish is that it can be directly applied to the concrete, and doesn't require extra materials or hard labor (for example, the application of grout tiles).
It is important to point out here that resin flooring installation requires adequate surface preparation and enough time to dry for it to bond properly with your floor. Moreover, like any other flooring installation, the absence of animals is required during the application of the epoxy coating.
Colorful and Friendly
It can be emotionally tough for pet owners when they leave their pets behind, so it's essential to convey to clients that your kennel is fun and inviting, not stark and mechanical. 
While epoxy coatings are exceedingly practical, they are gorgeous as well. You can browse various epoxy color choices and patterns like shimmering metallic and color flakes. Hues can be joined to make playful designs or even include helpful directional signs.  Recall that dogs perceive colors differently from humans when selecting your designs. You'll need to incorporate calming hues, for example, blue and green. Also, avoid the color white as it stresses dogs out.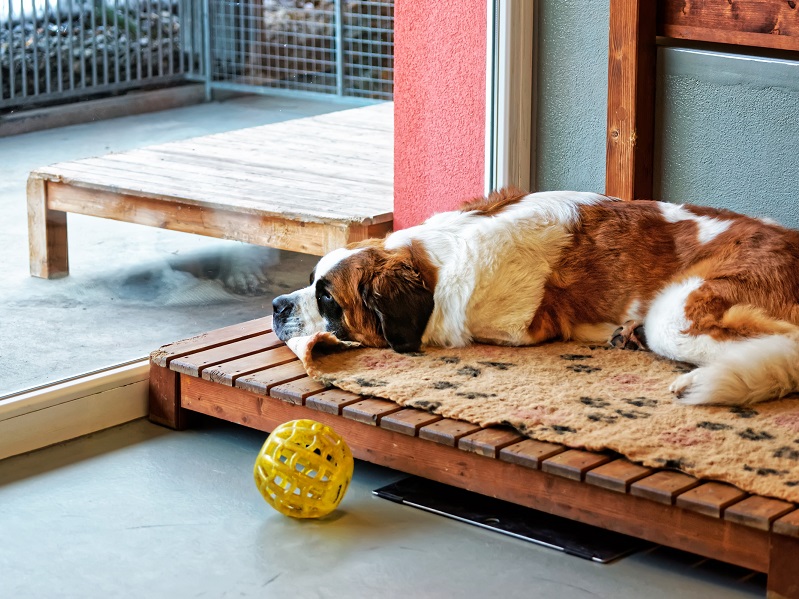 Hygienic
 
Many people don't consider concrete to be a permeable substance but the truth is that it contains numerous tiny pockets of air. Dog urine (since there's no way to avoid mishaps with the many dogs) and spills can penetrate untreated concrete, and the spaces give room to viruses and bacteria to grow.
An epoxy coating creates an impenetrable barrier for fluids, keeping them on the outside of the floor where they can be wiped up. Some special epoxies even incorporate silver nitrate, an anti-microbial additive that represses the development of bacteria or infections.
Who can use resin floors?
Regardless of the setting, be it industrial or a residential garage, our epoxy floor coatings are designed to give a solid and sturdy finish. Our floor finishes are seamless and suitable for auto mechanic shops, garage floors, and dog kennels. Urine and scratch resistant coating systems are available for all kennel floor types, including:
Resort and Hotel-based Kennels
Grooming Spas
Doggy Daycares
Animal Training Facilities
Dog Boarding Facilities
Municipal Shelters
Private Animal Shelters
Boarding Catteries
Ensuring an animal-friendly environment
Installing Resin Flooring epoxy flooring in kennels ensures that all staff, guests, and critters are provided a safe and comfortable environment, thus, lessening the occurrence of mold and pollution because of its seamless, safe surface. 
Moreover, when kennel proprietors pick Resin Flooring, there's an extensive range of floor hues and patterns they can pick from. We offer custom mixes, standard image-enhancement, and texture for every space in the kennel. On request, we can add capricious messages, logos, and directions into the floor finish for that extra touch of warmth and personalization. Our kennel facility flooring is designed with unique specifications and features. They include:
Customized levels of slip-resistance, installed depending on the needs of the facility.
Super easy and economical cleaning and maintenance 
Zero emissions after complete installation
Non-porous surfaces to aid in minimizing odor
Chemical resistance to animal waste
No usage of formaldehyde
Fast turnaround processes
Exceptional life cycle value and long lasting
Floors slope directly to drains or trenches with the installation of crucial cove base options.
Zero odours after installation
Superior stain, scratch and odor resistance
Need an expert opinion?
Get in touch with us for your expert kennel flooring in South East London
Epoxy is also a fantastic choice for equestrian centers and veterinary clinics. Have specific questions about your facility and whether epoxy would be a good fit? The experts at Resin Flooring are just a call or click away! Call us at 01245 678920 or contact us online.
Free Site Survey No Obligation
For expert opinion on your next project
Information about London
Active Resin Flooring is proud to offer ServiceXXX in London.
London is a Capital City located in Greater London in England.
London's local tourist attractions include Three Mills, Hatton Garden, River Thames, and Canary Wharf.
As a result of its location, a number of rivers and water ways inlcuding Kensington Canal, London River Services, and River Thames are found within London.
London's governing local authority structure is a Devolution In The United Kingdom.
London is found in Greater London.
London is associated with county districts including Harrow, Abbey Wood, Burnt Oak, Isleworth, and Kensal Green.
Wards in London are usually named after thoroughfares, neighbourhoods and parishes, these include Teddington, Barnes, Brentford, and Kew.
The Capital City of London is representated at a national level by Westminster (UK Parliament constituency), Kensington and Chelsea (UK Parliament constituency), Westminster Abbey (UK Parliament constituency), Paddington North (UK Parliament constituency), and Battersea (UK Parliament constituency).
The Capital City of London additionally contains villages such as Harefield, and Arkley in its boundaries.
Over the years London has assimilated a number of settlements including Adelphi, Greenford, West Norwood, East Barnet, Bermondsey, Raynes Park, and Maida Vale.
Active Resin Flooring's ServiceXXX area in the Capital City of London also encompasses Brondesbury Park, Muswell Hill, Battersea, Dartmouth Park, and Greenwich
Other service areas of Active Resin Flooring within London, England include South Norwood, Cottenham Park, Brent Park, Gidea Park, and Hampstead,
as well as London's outlying urban areas St Giles, Eltham, Hook, Lea Bridge, and Barking.
Just as importantly Active Resin Flooring's ServiceXXX cover the greater London area along with Harlesden, Edgware, Chingford, Catford, and Shepherd's Bush.
Putney, Paddington, Shoreditch, South Hampstead, and Bexley is within the constituency of London, Greater London.
Within London you find towns such as Woodside Park, Romford, Waterloo, Pitshanger, and Holloway.
Other towns including Barking, Enfield Town, Westminster, Chipping Barnet, and Chinatown can be found within the Capital City of London.
Lister Institute of Preventive Medicine, and Institute of Cancer Research found within London are respected through out England and the United Kingdom.
Notable educational establishments in London include London Oratory School, and The Hampshire School.
Additional educational institutions within London is the Saatchi Gallery, and Carlyle's House.
Newington Green, Pollards Hill, and St Luke's Church are popular with London residents and known through out England.
Local roads within London include Angel, Lillie Road, and Bishopsgate.
London reputation can be ascribed to its rich heritage including Statue of Charles II, Royal Hospital Chelsea.
Situated in London, notable heritage assets include 15 Cheyne Walk, Royal Hospital Chelsea, Stamford Bridge (stadium), St Helier, and Sloane House.
Many churches are still located in London, St Mary's, Church of Our Most Holy Redeemer and St Thomas More, and Chelsea Academy to name but a few.
The history of London has Timeline of London, Enfield Island Village, Chelsea Harbour, Sands End, and Three Mills.
Canary Wharf are London's central business districts.
A variety of business including Finborough Theatre, Rockstar London, and Granny Takes a Trip were founded in the Capital City of London.
The main shopping centre for London is Granny Takes a Trip
FAQ's
Is epoxy flooring scratch resistant?
An epoxy coating will most likely last longer than any other type of coating. Moreover, epoxy coating on its own is scratch resistant due to the composition of its ingredients. Epoxy flooring is not only resistant to scratches, but it is exceptionally durable.
How do you clean epoxy resin floor?
Use a soft bristle broom or a commercial dust mop (available at any home improvement store) for routine maintenance cleaning. Where there is a need to do a thorough clean on a dirty epoxy floor, sweep away loose debris if any, and then clean the floor with a hard foam mop, clear ammonia, and hot water.
Are epoxy floors safe for pets?
With its waterproof sealing, in addition to its easy maintenance, your epoxy finish is not only safe but also damage proof. What's more, our slip-free coating means that your pets can play and run around the floor safely.
Is epoxy flooring cheaper than other flooring options?
There are various options for kennel flooring available, and while some are more common than epoxy, they do not give your floors protection like epoxy. For instance, painting garage floors are cheaper than epoxy, but odds are, you'll pay more in repairs over time.