Some of our customers are more impressed by the versatility of our resin patio solutions and that they are ideal for up-work designs and dinner purposes. For others, the others the fact our designs are weather-resistant and easy to install make them unique. Yes, a resin patio takes just over 24 hours to get ready on your space and it's ready to use!  
With Resin Flooring bespoke resin patio designs, money is not a roadblock. You can own these eye-catching and durable designs without breaking the bank. Our commitment to providing you with unbeatable value means you can enjoy the highest industry quality designs at the lowest prices anywhere. And we stay with you all the way to ensure you are 100% satisfied — from consultation to installation to professional guidance and advice on maintenance. We pay attention to details, ensuring the location of the installation of the resin patios, type and colour of design and duration of the work perfectly match your preferences and needs. 
Our Guarantee
Free Site Visit and Survey
Full Insured
No hidden Costs
Professional Workmanship
15 Years Experience
British Standard Compliant
Some premium industry materials we use in the design of our resin patios for client
Stonex Resin

. Stonex 1-3mm is a special stone that can be knit together to give you a seamless look that is very difficult to detect. When we mix this stone with our other material like polyurethane binder, we get an alluringly unique surface finish for you. It is also weather-friendly, and you don't have to worry about damp or waterlog problems.  

Stonex resin bound patio.

This is a UV resistant binder we can install for clients on request. It ensures that the colour you have on installation is the same colour you would have at any point in time in the patios' lifetime.

Quartz Carpet.

Also called stone carpet, this describes the variation in designs particularly the 1-3mm quartz. Quartz carpet designs are available on a natural variant or coloured variant and are ideal for both indoor and outdoor flooring.
How We Install Resin Flooring for You
We prepare the soil, making sure we get the correct mixture and the asphalt pattern of fitting the stones together. Next, we lay the resin on that substructure.  
We mix all the materials together with the resin, ensuring we follow the industry standards and specifications. Our professional masons would then spread this mixed substance on the intended area and the designs are done thereafter.
We also take the climate and physical environment into account when installing our solutions. We make sure to check the topography, humidity, groundwater level and temperature of the location as these can affect the final look of the resin patio design. 
At Resin Flooring, we go the whole nine yards and follow all industry standard process and pay close attention to other details like the environment, climate and characteristics and outcomes of your selected resin patio designs and colour. All of this, in addition to the top-notch expertise and dedication of our technical and support teams, guarantee that the final outcome of our work for you is of premium quality. 
We also have a vast collection of different colours for our resin patios. Because of our experience in this craft, we understand the evolution of the designs itself. We have a remarkable collection of custom-made designs for your resin patios.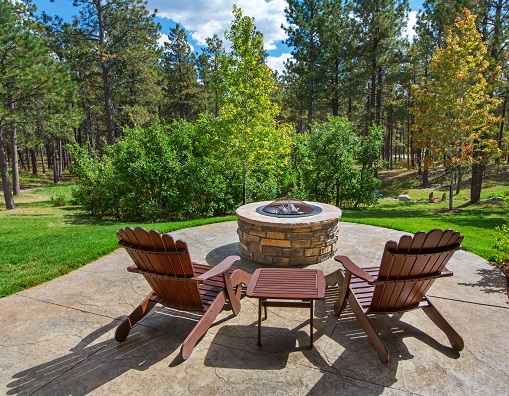 Reach out to us today
While we have a lot of pictures on our gallery page, we also like to show people the real designs in our showrooms because there is nothing as good as when you see it with your eyes. Please feel free to visit us today so you see our wide range of samples, current and past projects and visualise your home or commercial space equally transformed with our bespoke resin patio designs. 
You can also reach us by phone on 0208 6140774 or through our online contact forms on the website. Our helpful and friendly resin patio experts are always on standby to discuss your projects with you.