Our Guarantee
Free Site Visit and Survey
Full Insured
No hidden Costs
Professional Workmanship
15 Years Experience
British Standard Compliant
Resin floor finishes are resistant to fire which means falling cigarettes are not likely to pose any threat to them. To create an even more elegant finish, most people opt for incorporating their logos as a motif for resin floor finishing designs. These are especially popular with businesses including school, offices and entertainment centres. They make it easier to keep clean and increase the value of the building.
The elegance and long-lasting properties of epoxy floor finishes make it a good option for office areas. They are easy to maintain and keep clean, they are also widely available in assorted designs and colours.
Why select us for your resting law finish?
Matching wall coverings and flooring are becoming more fashionable in both residential and industrial buildings. As a result, an increasing number of people are selecting polished concrete floors or poured resin as a blank slate for their interior decorations, so that they can further customize it to complement the decor of their home and offices. Not only do they provide strikingly elegant finishes but they are long-lasting, cost-effective and can be incorporated easily into retail environments, modern homes and offices, especially for people who want a beautiful inspiring place to work from when at home.
Our resin floor finishes have proven to be an efficient and versatile solution for many reasons, such as providing a hygienic, hazard-free environment for home interiors, retail spaces, commercial workspaces, and home offices of any standard or dimension.
We provide solutions for both large and small building projects. Resins are extremely durable and can be incorporated to provide striking design effects in almost any space including workshops, garages, industrial warehouses, wet rooms, offices, nightclubs, retail areas, homes and studios.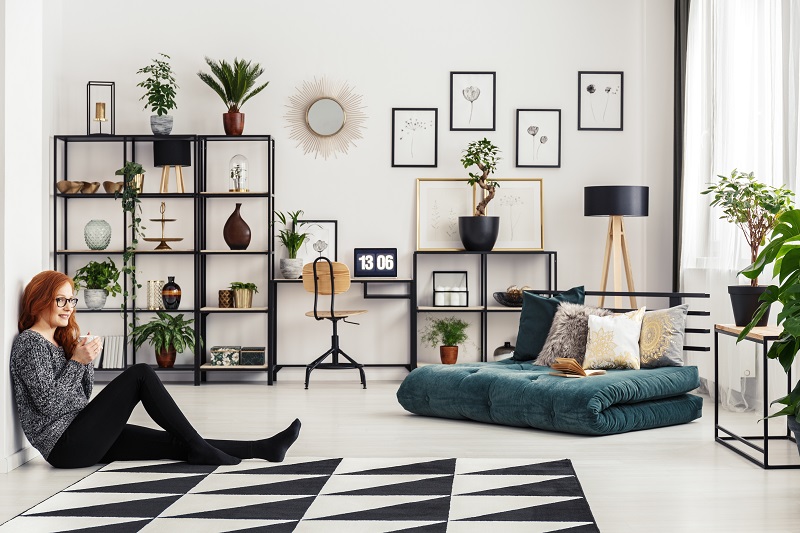 Professional resin floor finishes we supply
Are you in the market for a floor finish that is elegant and has a proven long-lasting ability? Resin flooring will provide an adaptable solution for your home office that is extremely long-lasting and hardwearing. Traditional floor finishes lack certain features such as heating and cosiness but our polyurethane resin floor finishes provide warmth by trapping heat in the floors, and they are also extremely comfortable.
Resin floor finishes are perfect for multiple use spaces that place a high premium on the resilience of the floors. Our wide range of flooring solutions makes endless design possibilities for domestic spaces and home office projects. The fitting of a resin floor finish, however, takes longer than 24 hours but we guarantee minimal interference with your daily routine in your home all businesses.
For more enquiries about poured resin floor finishes and to test them for yourself you can visit one of our London showrooms and one of our team members will be delighted to provide more information on how we can make your project easier or you could phone us on 01245 678920 to converse with one of our professionals.
Free Site Survey No Obligation
For expert opinion on your next project
FAQ's
Why is arrested floor finish perfect for my home office?
Epoxy floors are colourful and more formal when compared to other flooring solutions. This stylish design makes them appealing. It gives the floor a flat and level surface which is easy to clean and maintain. It is resistant, durable and provides protection against water, heat, chemical spills and harsh cleaners.
Epoxy resin can be used on what surfaces?
We also provide epoxy paint which is a two-layer coating made up of a catalyst and arresting. When mixed together these two layers form a hard-wearing layer with the ability to withstand massive amounts of pressure. Epoxy paint is suitable for concrete surfaces in basements and garages, it is also used to coat wooden floor finishes.
Can epoxy resin fumes spoil my electronic appliances?
When the project is completed allowing the air to circulate in the room is necessary. Epoxy resin fuels do not harm electronics but it is advisable to move all items into another room to ensure you protect your appliances.
Does the surface peel or crack eventually?
There shouldn't be any peeling or cracking of the surface of the floor finish if the epoxy coating is mixed in the right proportions and installed correctly.
Is epoxy hazardous to touch?
Once the epoxy resin has solidified it is perfectly safe and will be similar to the feel of various plastic.
Are resin floors safe?
Safety is our top priority and we want to make sure you have comfortable high quality poured resin floor finish in the home so that you can walk barefooted without any fears. Unlike epoxy, resin floor finishes are non-toxic biopolymers which are safe for the entire family and do not release harmful toxins into the air in your home, contain impurities or hazardous solvents. 
At Resin Flooring, we are certified members of the Resin Flooring Association (FERFA) and we are professionals with many years of experience in resin flooring. Our expert installers have worked in London and throughout the UK and hundreds of residential and commercial construction projects over many years. We guarantee you peace of mind that you have committed your resin floor finish to professional service providers.
How do I contact Resin Flooring?
To get in touch with our expert installers, please call us on 01245 6789200 or send us an email to the following address.
We also provide free no hidden charge estimates on your project so give us a phone call to get a fair idea of how much it'll cost to provide a resin floor finish for any of your buildings.