Epoxy Resin Flooring Benefits When Flooring Outdoors
No toxins that may hurt you or your family are released from epoxy. Resin may also be used on outdoor surfaces such as walkways with cracks or stained plates.
Specially formulated epoxy mixtures can be applied over current concrete. This isn't expensive and the chaotic process of removing the concrete can be avoided.
Renowned for its strength and durability, epoxy resin is the perfect flooring solution for the protection of outdoor surfaces that are prone to wear and tear.
Pathways made of concrete and porches look elegant when epoxy is applied to the finish. The colours and styles offered are varied. It also improves the beauty of the outdoor environment and provides a few more advantages.
Our Guarantee
Free Site Visit and Survey
Full Insured
No hidden Costs
Professional Workmanship
15 Years Experience
British Standard Compliant
Available Outdoor Options for Epoxy Outdoor Resin Flooring
Unique epoxy surface kits can be gotten for use on outdoor surfaces. These have many uses, including improvements to steps, garages and paths of stone. You can tint them as well.
This tint allows the epoxy to match the precise colour of the original surface. These easy to use epoxy kits can turn any drab surface into an aesthetic masterpiece.
Another choice for swimming pools, decks and patios is to interlock tiles. Not only are they 100% weather resistant, they are also not as slippery as rock or granite. The flooring system is safe and secure.
Usually these regions are paved with pore stones, timber beams or tiles.
Resin floors are available with non-slip, water-based sealants. They can be paired with epoxy to improve and defend the appearance.
The resin dries out quickly around pools, jacuzzi and hot tubs. It protects against slips, skids and falls on wet surfaces. In addition to offering a nice finish, it will make your pool and patio safer for children and elderly adults
The epoxy floors of today also have a truly advanced design level for outdoor applications. More creative liberty is available to you. You can have a floor outdoors that preserves a natural aspect that complements your environment.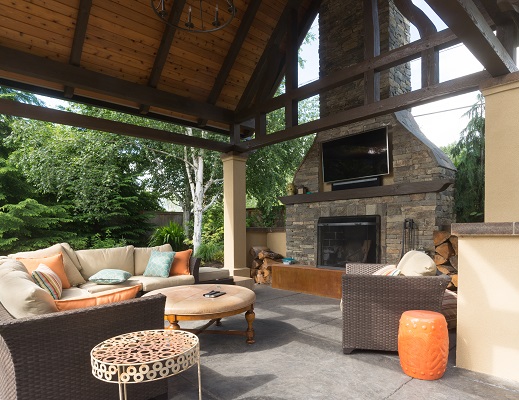 Preparation and installation of Resin Floors
A smooth and mildly porous surface is necessary to correctly adhere an epoxy layer. The concrete must also be completely cured. It is crucial that all significant splits and chips on the concrete surface are repaired before using epoxy floor coating and that all grease are removed.
If old, check the concrete's surface for prior epoxy or other products. Pour a tiny quantity of water on the floor to check for sealant. If the water permeates the surface rather than be absorbed, it may have been sealed and not ideal for an epoxy covering.
Make sure the temperature is adequate before applying an epoxy coating. The epoxy may blast and peel at unfavorable temperatures. Epoxy is a 2-part liquid you blend before use. You have little time to apply the epoxy coating before the item begins hardening after it has been mixed.
Make sure the floor is covered with a thin layer of water before applying a primer and spread the primer over the whole floor area using a roller-pin. The finisher is used in the same way as the primer only without the water layer.
Contact us!
You can contact us by filling out the contact form. One of our resin outdoor specialists will be in touch to assist you. Alternatively, call us on 01245 678920.
Why not give us a call today
For free resin floor advice or a free quote
FAQ's
Are there any extra costs with epoxy resin solutions?
Specific protective clothing, eyewear and respiratory systems need to be purchased and used prior to handling these chemical products. This does not only increase the time and effort required, but it can also increase costs when you DIY. We have all the equipment we need so our epoxy resin quotes are comprehensive with no extras.
How much time does it take to install outdoor floors?
Everything depends on the size of the space we work on and changes depending on the material used on the floor. It can usually take 2-3 days on an average garage floor depending on the ground material.
Are there preparations before an outdoor epoxy floor is installed?
Yes, we prepare the concrete for the installation phase before anything begins. Each part of the ground is carefully inspected for the use of degrading products for any oil spot that is to be removed and minor breaks that we may discover on the floor for repairs. We begin installing the fresh epoxy floor after all these checks are done.
Do I need to close mortar joints, cracks/ holes before coating? How am I going to do it?
It is recommended that all cracks be patched before coating. Epoxy-Coat does not suggest patching them before laying, as mortar joints/ saw cut is engineered for motion. You may place an order online to buy Epoxy-Coat Patch Kits and Caulk, or ask us to help.